Favela da Paz from São Paulo in internship with us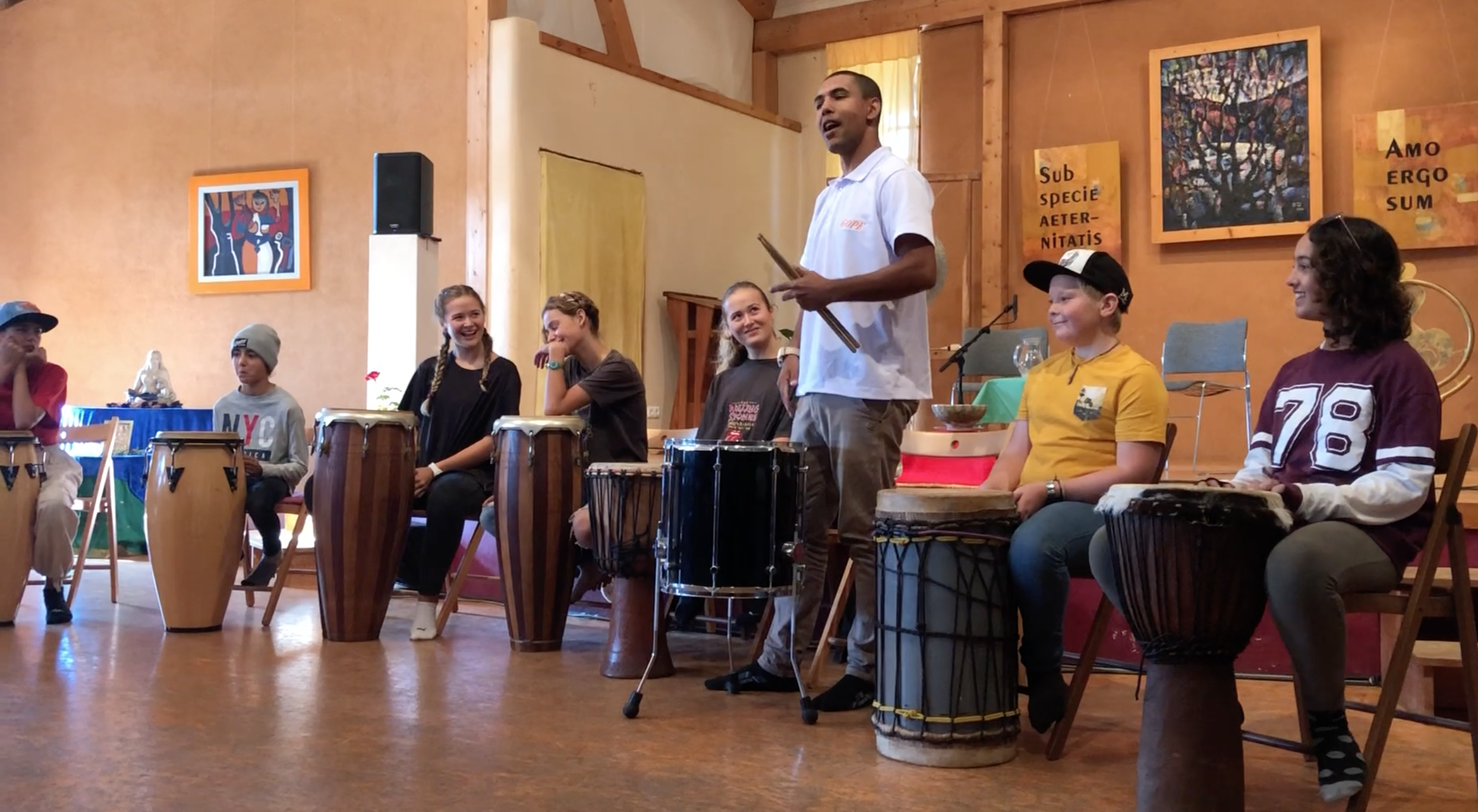 The group of Escola da Esperança was blessed to receive for one month Pikeno, a member of the Instituto Favela da Paz in São Paulo, Brazil. He grew up there and co-created a socio-cultural Institute in the middle of what was in the 1990s one of the most dangerous slum of the world. He works with children and youth in the favela Jardim Ângela using drums and music as a tool to create community experiences, social knowledge and support them creating the lives they dream of.
The intention of Pikeno's internship with us for this month of October was to get to know our way of accompanying children and youth in daily life and learn from it to help him improve in his work in São Paulo. He took part in the school time, playing time and daily life of living in Tamera, visiting all areas of our work: kindergarten, primary, secondary and youth groups. As Pikeno wrote in his report, his approach the first week was to get to know the children, what games they play, their rhythm in order to create a bonding. Pikeno supported the teachers in each space where he was invited, offering games and giving orientation to the children on a social level. The first half of his internship was a Children Community Time in Tamera where all children and youth from 6yo on were living together in the same place. A team of adults would accompany them and make sure they have what they need. The idea was to create a communitarian home base from where all impulses of activities and all frictions between the children would find creative solutions all together.
During this Children Community Time, Pikeno would learn to pick up conflicts that popped up among the children and invite them to speak about them in the next sharing circle (that we call Furorium).
He then started to hold Capoeira and drumming classes. As Pikeno describes that after 2 or 3 classes, the children could start playing joyfully and with self-confidence. The groups could pick up the exercises they learnt and be able to present them in front of the whole school. And then in front of the whole community and guests of Tamera at our Sunday's gathering Matinee.
From his experience in the kindergarten, Pikeno shared his insight on how to channel the children's gifts and potentials into something positive, having them feel as an important part of the group.
In his last week in Tamera, Pikeno was invited to also participated in our Internal Parents School where adults meet to learn about children and youth, also speaking as truthfully as possible their wishes with their children, and how to overcome the obstacles in between. In this time, we ritually blessed our 3 pregnant women and we also invited Pikeno to receive the blessing from our community for him to become father of twins in the next months and to his partner to become mother with him. Pikeno was very moved by the dimension and importance we put on these life events and the magic he experienced.
Every week, Pikeno spent a morning with the herd of dogs we care for in Tamera, giving them food, walking them, loving them. Pikeno has a special love for dogs and puppies so that he could use this opportunity to broadly open his heart.
We want to thank The Grace Foundation for funding his travel and stay costs for this internship. This internship was for us very meaningful also in the frame of the Global Campus peace education exchange. In each existing partnership around the world, we commonly look at what piece of education is now relevant for each core member of each partner project. Children accompaniment is now more included into the peace curriculum of the Global Campus.
You can follow his work in São Paulo.