The teenies on a day out in Odemira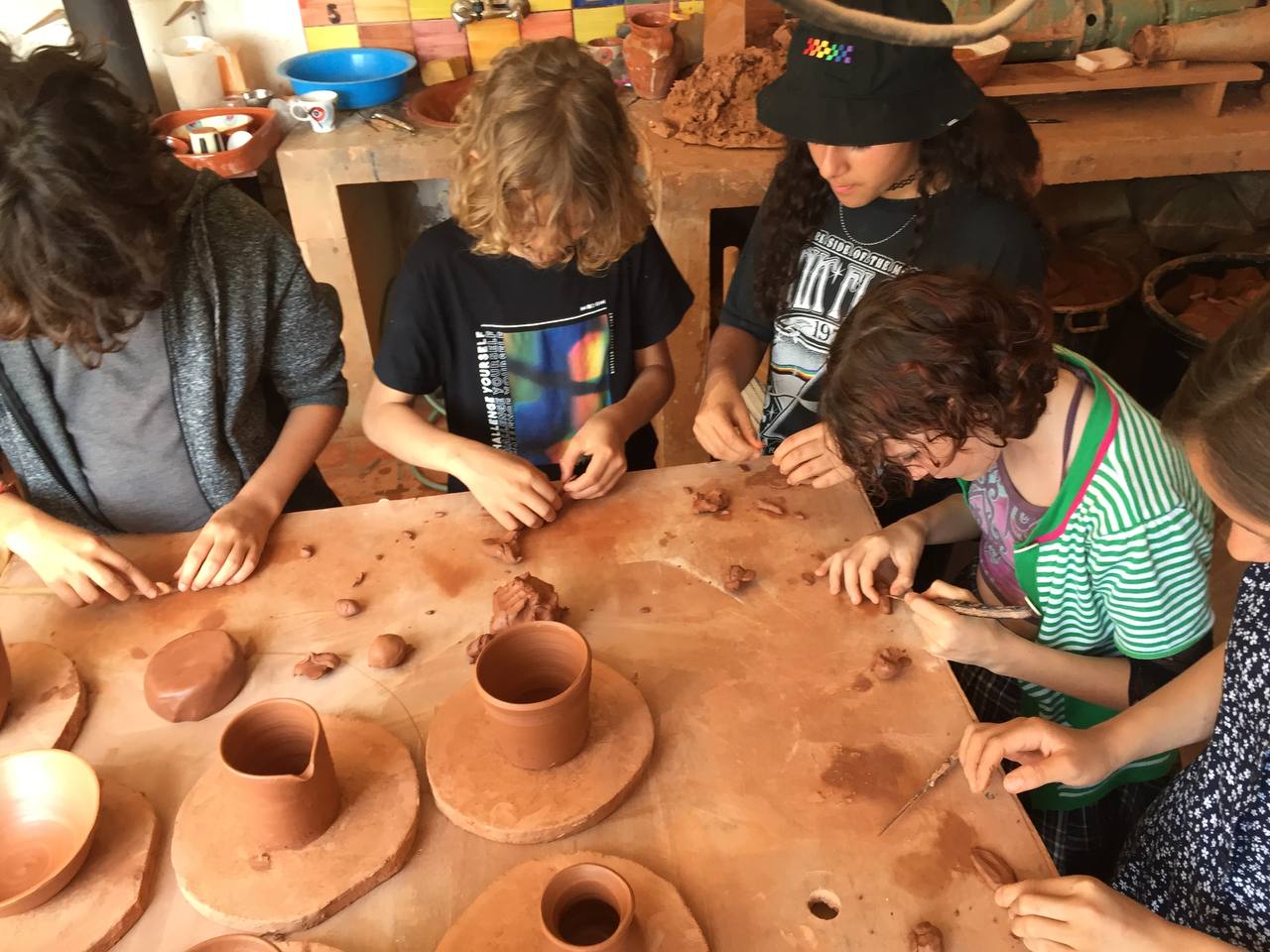 Because school is not the only place where we can learn, we went to Odemira to find out more about chocolate and clay!
On May 19th, we, teenies, went to Odemira with teachers Benjamin, Fernando and Silvia to visit Beatriz's Chocolataria and Inês Viana's Olaria. It was with great excitement that we climbed the stairs leading up to the small artisanal chocolate factory, because we already knew that a very sweet morning awaited us! Beatriz, the mentor of this project which has been open for over ten years, received us with a smile and with lots of information about cocoa: from its origin to the instant it melts in our mouth. We could see photos of the tree, the fruit and the cocoa beans, some maps with the cocoa producing regions and we also had the opportunity to taste pieces of raw cocoa paste. Then Beatriz and Tânia, her collaborator, showed us how to work the chocolate nuggets: tempering, shaping and finally decorating with white chocolate. At this last stage, we were invited to put our hands into the dough: we made small trays of baking paper that served as "pastry bags" to draw with the chocolate in its liquid state! It was a beautiful experience that, a few days later at school, we showed to the other classmates and, of course, we enjoyed it very much! At lunchtime we had a picnic at the Parque das Águas and at two in the afternoon we were already at the door of Olaria (pottery workshop), in Boavista dos Pinheiros. We were kindly received by Inês Viana, a potter by profession and passion, who, when she was 8 years old, told her parents that one day she would work with clay. And so it was. Inês began by explaining a little about the different types of clay existing in Portugal and reminded us that this is a centuries-old art. In a second moment, we approached the workbench and started to knead a piece of clay that would later be shaped on the potter's wheel. When Inês set the wheel in motion, we witnessed a moment of magic: her hands transformed that piece of clay into different objects. "Now I want it wider! Now I want it narrower! I don't want it like this, I want it like this", Inês kept saying as her hands worked the wheel, and those words really did sound like magic! Then it was our turn to try the potter's wheel: obviously, we needed Inês' help, but it was an incredible opportunity to see a ball of clay transformed into vases, bowls, mugs… We returned home full of sweet and artistic moments to share. And you, would you also like to paint with chocolate and put your hands in the clay?